We offer complete Ornamental Wrought Iron Fence Installation and Repair Services in Austin TX for homes as well as for commercial businesses.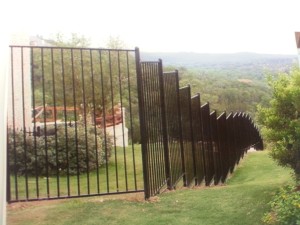 If you are looking for the best Ornamental Wrought Iron Fence Installation in Austin TX, you have come to the right place. 
We have over a decade of experience Repairing and Installing Ornamental Wrought Iron Fences in Austin TX and the surrounding cities.  We're the leading experts with the most competitive prices.  
ORNAMENTAL WROUGHT IRON FENCE
We install all types and designs of ornamental wrought iron.  Whether it be a fence, gate, windows, stair ballasters or handrailing, our custom installer can fabricate just about anything/design you have in mind.
Our services include:
Wrought Iron Gate & Fence Installation
Wrought Iron Gate Fence Repair
Custom Designs to your specifications 
Competitive Prices
Whether you need routine maintenance or a complete new iron fence installation, our team of experts is at your service.  We deliver quality services at affordable prices.   As a family-owned company, it's our top priority to deliver superior results, while saving you time and money.  That's why our company motto is "Small Company, Small Overhead, Small Prices".    Our projects are custom designed to suit your budget, personal taste and needs.
TESTIMONIALS
It is our top priority to keep our customers happy while taking great pride in our workmanship.  We are very proud of our happy customers who continue to come back to us for new fence projects.   Please visit our Testimonials page and contact us today to get your Ornamental Wrought Iron Fence project started.