We offer complete Chain Link Fencing Services in Austin TX for Residential and Commercial businesses.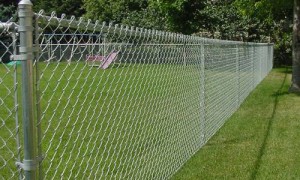 American Quality Fence is the premier choice for Chain Link Fencing Services in Austin TX and the surrounding cities.   If you're looking for the best Austin Fence Company, you've come to the right place.
Do you need a fence around your yard to keep the kids safe and your family pets inside?   Have you considered Chin Link Fencing?  Chain link fencing is easy to maintain, can increase the safety and value of your property and it can help define  your property boundaries.  We provide thorough and long-lasting chain link fencing installation and repair services in Austin TX.
Chain link fencing is versatile, practical and economical.  It has a large number of uses, from residential to commercial sites.  It's low maintenance, durable and offers security.  It's also suitable for homes or businesses concerned with keeping people out and pets in.
However, a chain link fence offers very little privacy because the space between the wires is small enough to keep people out, but large enough to see through.  But, you have the option of adding privacy slats, making these fences decorative as well as functional.  Or, they can be combined with gates to provide privacy and access.   If you're looking for a fence that offers strength and durability, chain link fencing may be an option for you.  Contact Us for more information on the many options and accessories for chain link fencing.
Choosing a material for your fence installation project is a big decision.  Our dedicated team of professionals can help you every step of the way.  We also do routine check-ups to ensure the ongoing health of your fencing project.
OUR SERVICES:
Residential and Commercial Chain Link Fencing Services
Excellent craftsmanship at competitive prices
All sizes, heights, gauges and styles
Fast, professional services
MAINTAINING YOUR FENCE
Your fence is a big investment in your property.  It adds value to your home and more importantly, it provides security to keep you and your family safe.  We recommend regular check-ups for your fence to keep it in good condition.
For your complete satisfaction, our projects are custom designed to suit your budget, personal taste and needs.
American Quality Fence is a family owned and operated fence design and installation company.  We have extensive experience in fence repairs, restoration, ornamental wrought iron fences, iron or wood automatic gates and chain link fencing.  We only use the finest materials to build durable fences.
We offer a variety of money-saving solutions for your complete satisfaction and peace of mind.
If you have a fence project in mind or have a question and need help, please don't hesitate to contact us.